Safety at Adams
Safety at Adams: Information for Parents
Visitor and Volunteer Policies
We welcome members of the Adams Elementary community and hope that you enjoy visiting our school. In an effort to keep all students and staff safe, we need to know who is in our building at all times. During school hours, if you are planning to visit a classroom, please sign in with our main office to receive a visitor's badge. If you are coming to pick up your child early, please sign your child out at the front desk, then speak with one of the front desk secretaries who will call the teacher to have the student meet you in the office. Please enter via the entrance, on 62nd Street. Thank you!
Safety Preparedness
Adams Elementary School has a standing Safety Committee, that meets one each month during the school year. The Committee is in charge of safety planning, including preparing for monthly safety drills, but it considers all safety-related issues and works to improve processes in an effort to create the safest possible environment.
Safety in the classroom
The students and staff conduct regular safety drills, rotating through fire/earthquake, lock down and shelter-in-place scenarios. Each drill is timed and the effectiveness of the drill is discussed at the safety meetings. In addition to these drills, school faculty and staff participate in training classes throughout the year to learn new skills and brush up on old ones.
In-room Supplies
Every classroom has a duffel bag or backpack full of emergency supplies in the event that the teacher is responsible for taking care of his or her students for an extended time. The classrooms also have emergency bottled water.
Emergency Supplies
Out at the east edge of the school property (next to the small parking lot) is a half-size shipping container which holds emergency supplies to be used in a major disaster. The supplies are refreshed and updated by members of the Safety Committee, along with the help of volunteers.
In the Event of an Earthquake or Other Disaster
Some key things to keep in mind that would help Adams staff resolve the situation safely:
Please don't call the school — that will clog phone lines. Wait for the school to call you, or you may come to the school. It is very important that our database has up-to-date contact information, including who is permitted to pick up students in case a family member is unable to.
Don't drive right up to the school — that will clog the streets which need to be available to first responders. Park a block or two away and walk (unless, of course, you have difficulty walking).
If the school has been evacuated, check-in at the reunification site (see number 1 on map below). Staff members will have the specific responsibility of checking to make sure students are released to designated adults. It is imperative that adults coming to pick up students have proper identification on them at the time.
Remain calm — knowing that a plan is in place and Adams is prepared! In a disaster, children want reassurance and normalcy, so do what you can to provide that when you pick up your child.
Check-In and Reunification Sites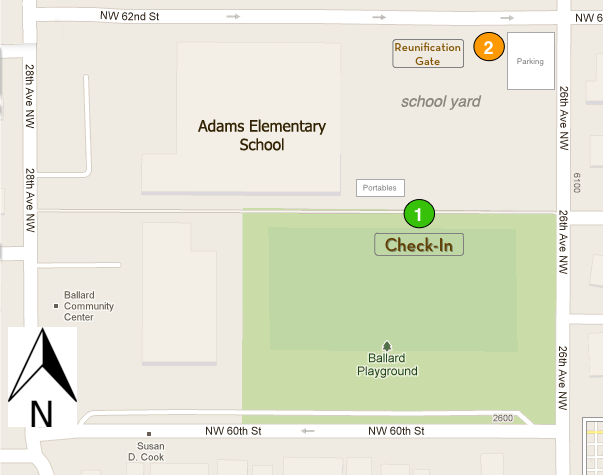 Comfort Kits
Each year we ask families to provide a "Comfort Kit" for use in the event of emergency or disaster.
Please use the provided gallon Ziploc bag to assemble a Comfort Kit for your child (don't forget to write your child's name on the bag). The kit will be stored in the classroom and returned to you at the end of the school year.
Each child is asked to bring their comfort kit to school early in the year using the list below. These kits will provide, if needed, some emotional comfort and quick supplies.
Select foods your child likes, consider allergies, non-perishables that can be stored at room temperature (long shelf life).
Suggested items to include:
Family photo and note of comfort
1 leaf/lawn garbage bag (rain gear)
Space blanket
Mini flashlight with batteries or light stick
Small book/pencil and drawing tablet
Deck of cards or small game
Granola/protein bars
Small package of nuts
Small package of crackers
Comfort foods like hard candies or cookies
Canned juice
Fruit leather