About
Adams Elementary School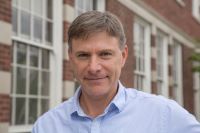 Our mission is to provide an engaging, appropriately challenging, arts-infused education that maximizes the academic, social, emotional and physical growth of every student.
Established in 1909 and located in the heart of Ballard, we are proud of our long tradition of being a community school that offers a holistic education and fosters excitement about learning.
What makes Adams Special?
Our 15-year commitment to providing arts-integrated instruction . All students receive hands-on instruction in visual and performing arts, as well as learning experiences that integrate art in alignment with Common Core State Standards. Integrating art in this way illuminates the concepts being taught while fostering creative and critical thought, collaboration, and problem-solving skills.
Strong academics . "Educational excellence and equity for every student" is Goal One of the Seattle Public Schools Strategic Plan. Our Common core standards-based curriculum ensures that Adams students receive the strong foundational skills in English language arts, mathematics, science, social studies, physical education, vocal and instrumental music, dance, and library/information literacy necessary for continued success.
A dynamic, talented staff . Our 55 staff members put children at the center of all they do. Representing a range of backgrounds, our teachers are committed to incorporating current research and best practice into their teaching.
An array of services in support of our diverse population .On-staff specialists include full-time special educators, an English Language Learning specialist and assistant, reading and math intervention teachers, and several instructional assistants as well as a part-time nurse, counselor, psychologist, occupational therapist, physical therapist, and speech language pathologist.
Community involvement . Our students and staff benefit from the active involvement of parents and the greater community. We are grateful for the work of the many volunteers who support teaching and learning in our classrooms. Our world-class PTA is involved in a variety of ways that support school services, building improvements and a range of community-building events. Our collaboration with Kids Co., the Ballard Community Center, the Ballard Boys and Girls Club, and Illumination Learning Studio enables convenient, quality before- and after-school care for Adams students.
Exciting enrichment programs . Our Parent-Teacher Association sponsored enrichment program offers a wide array of quality after school classes that extend and enhance the education provided during the school day.